Business Model
Collaboration and Alliance with Partners
Our business model is based upon collaboration and cooperation with partners in various fields. We are actively promoting in-licensing and alliances for expansion of the drug pipeline in Japan from pre-clinical stage, to acquire exclusive manufacturing and marketing rights from bio-ventures around the world, developing new innovative pharmaceuticals and getting MA approvals for the treatments of rare diseases. We are conducting clinical development through contract research organizations and manufacturing through contract manufacturing organizations. As for marketing, building our own sales and marketing organizations by getting marketing authorization is a top priority. Depending on specific conditions arising from the needs of patients, we will also seek collaborative opportunities with pharmaceutical companies or other external expert organizations.
Business Model Image of DyDo Pharma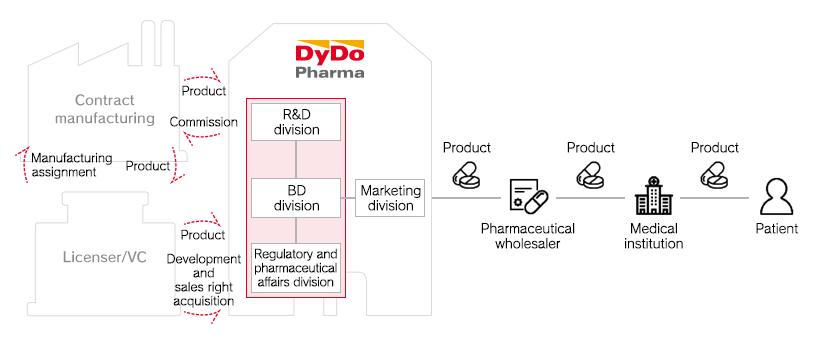 Full access to the group's assets as a 100% subsidiary of DyDo Group Holdings.

Inspired by the president and chairman who are members of the family that founded DyDo Group Holdings, a company with origins in the pharmaceutical business.

Quick decision making by management directly connected to Holdings management.

A team of senior professionals with extensive experience and immediate access to top-quality human networks in the pharmaceutical industry.

Managerial principle based on minimum internal fixed assets, operating like a virtual pharma company.
Our Investment Concept
Our top priority is to acquire the exclusive manufacturing and marketing authorization rights for each potential new drug candidate and develop it in order to get MA approvals in Japan. More importantly, funding decisions for bio-ventures will be based on careful evaluation and assessment of the return on investment in collaboration with DyDo Holdings, while keeping open the possibility for future acquisition of option rights as well.